For the uneducated, using Priceline's "Name Your Own Price" feature to book a hotel room is like going on a blind date - arranged for you by a used car salesman - who insists on a five-date commitment - up-front!
True, you've told Priceline your requirements - check-in and check-out dates, "star" quality level, geographic location or "zone", and maximum cost per night. And Priceline will abide by those requirements. But, as I alluded to in my earlier post about Priceline gotchas, there's a lot of wiggle room there for Priceline to play with, specifically with the quality level and zone.
On a typical blind date, if the person you get fixed up with turns out to have hygiene issues, an addiction to plastic surgery, and/or an address three states away, you can cut the date short. No big loss. On the other hand, if the hotel Priceline "awards" you is known for its bedbug collection, is undergoing a loud floor-by-floor renovation, and/or is located in that far-off part of the zone you hadn't noticed, you're stuck. As I've stressed before - no refunds, exchanges, or modifications are allowed.
However, what if I told you, the educated Priceline hotel bidder, that you can increase your odds of being satisfied with your date, er, hotel to somewhere near 100%? Well, you can. How? With some upfront research, of course.
The Eligible Bachelor(ette)s
What you need to do, in a nutshell, is research all of the hotels you could possibly win prior to bidding.
As I explain in my Priceline hotel bidding how-to, start by choosing your target destination, zone (or zones), and quality level. Now, before actually bidding, head on over to the sites I mentioned in my post about how to determine your Priceline bid amounts. As I explained in that post, BetterBidding should be your first stop.
Once there, find the forum for your destination and then click on the link for the Priceline hotel list for that destination.

Scroll down and see if you can find a section for your target zone/zones. (If you don't see a section for your primary zone, you might want to ask yourself why you are targeting a zone that isn't very popular.)
Here you'll find a non-exhaustive list of hotels previous winning bidders have won, sorted by quality level. Now, seeing as these lists are compiled manually from voluntarily-posted bids people have won in the past, don't take them as exhaustive or complete. It's entirely possible that you could end up winning a previously un-won, new, or rarely-won hotel. (If you do, please post it to one or more of the Priceline bid forums.)
Mentally filter the list for your target quality level, and above. (Remember, Priceline can upgrade you.) With this list in hand, head on over to TripAdvisor and research each hotel that you could be awarded.
Background Checks
On TripAdvisor, you can find your hotels by either destination or hotel name. For each hotel, look at the TripAdvisor rating, read the user reviews, locate it on a map, look through the amenities, click through to the hotel's official website and take a virtual tour. Do whatever you need to do to verify that you would be comfortable staying there. Do this for each hotel in the list. If there is even one hotel that you would not be happy with, you probably should not place a bid using Priceline.
If all of the hotels pass muster, the final thing you should do is visit the TripAdvisor forum for your destination (narrow down to your specific city/region) and then search that forum for "priceline".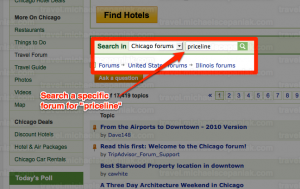 What you're likely to find are forum threads about Priceline hotel-bidding for that city/region. Read through a few and note any specific hotels people seem to be wary of, along with any specific bidding strategies/experiences people mention.
After doing all of this, you will be completely prepared for whatever hotel Priceline is likely to award you. If you are comfortable with all of the possible outcomes, then go ahead and start bidding. If not, well, you might not want to go the Priceline route this time.
Why All The Research?
Now, you might be wondering why I'm taking the time to explain how to do all of this research and legwork. After all, much of this seems to run counter to the general "don't worry" vibe of my initial "why use Priceline for hotels" and "how to use Priceline for hotels" posts. I see three reasons:
You're bidding for a resort-centric vacation
You're bidding for lower-quality hotels
You're not willing to leave your hotel up to chance
Resort-centric Vacations
The degree to which you are satisfied with your accommodations does not always matter the same amount for each and every vacation/trip. For example, I'll venture to say that the accommodations play a much more important role when vacationing at resort destinations than they do when staying in a large metropolitan city.
If your vacation itinerary is mostly comprised of staying on-property of an all-inclusive beach-situated resort, I think it's safe to say that you aren't going to enjoy your vacation unless you enjoy the resort. Conversely, if your vacation itinerary is mostly comprised of being out and about, exploring, sightseeing, dining - interrupted only by brief hotel pop-ins to sleep and shower, you very well might enjoy your vacation despite not loving your hotel.
So, depending on which vacation type you skew towards, this post (and the precautions outlined therein) may or may not apply to you.
Lower-quality Hotels
I've always recommended that bidders should keep their quality level at the 4-star (maybe 3 1/2-star) point. At this level, you don't typically have to worry about issues concerning cleanliness, comfort, and quiet. But, for whatever reason (cost, I suppose - and maybe availability), sometimes you may find yourself needing to bid for lower-quality hotels.
If this is your situation, I suggest you do all of the research I've explained here and be prepared to back away from the bid form - or get ready to lower your standards.
Not a Fan of Chance
Some people just don't like the unknown. Some people want more control over what they're buying. Some people don't trust. Some people have specific demands or needs. Some people have plenty of time on their hands. Some people have already had that hotel-stay in the third circle of Hell and don't want to repeat it. Whatever the reason, some people just can't bid for hotels unless they know (with a fairly high degree of certainty) the hotels they might win.
And you know what? That's absolutely fine. And if this describes you, then this post and the procedures described are right up your alley. I'm happy to help.
Hotwire
Actually, if any of the above three reasons apply to you, you might want to consider using Hotwire instead of Priceline. I'm not going to fully explain the ins and outs of Hotwire here, as the topic deserves its own post. But, if you don't have the time or inclination to do the research I've recommended here, but you still want to save money on your hotel (if maybe not quite as much as using Priceline's "Name Your Own Price"), Hotwire is a good option.
The great thing about Hotwire is that, while it doesn't tell you exactly which hotel you are buying until after you have committed to the purchase, it tells you the "zone" and amenities up-front.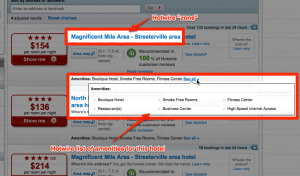 With this information in hand (and knowledge gathered from BetterBidding), you can frequently determine beforehand which hotel is in play.
As before, bring up BetterBidding and find the forum for your destination. However, instead of clicking on the link for the Priceline hotel list for that destination, click on the link for the Hotwire hotel list.
Scroll down and find the section for your target zone/zones. You'll then have to try and match the list of amenities Hotwire is showing with those listed on BetterBidding. (Hotwire Revealed provides an alternative for doing this.)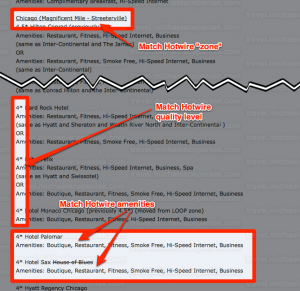 That should give you enough of a primer to go off and do further investigation, if you'd like. Again, I'm not going to go into more detail here about Hotwire. Another time.
A Good Match
Not everyone has the need (or desire) to go to the lengths I've described to vet the hotels Priceline might hand them. But, some do. And, depending on circumstance or personality, some should. Know your options and do what you will.
Armed with the knowledge and facts gleaned from the wonderful, sharing bidders that have come before you, you can know up-front whether or not you can really trust Priceline's "Name Your Own Price" feature to "fix you up" with a hotel you'll actually be happy with. A hotel that matches your wants and fulfills your needs, beyond just the basics.
Will you (do you) research your hotels up-front this way before bidding on hotels with Priceline? If so, how often have you shied away from bidding because one of the possible hotels you could win proved to be a roadblock? Let me know in the comments. Thanks!