I've been working to educate myself on the ins and out of award travel for a good while now (over 3 years, by my estimation). Last Tuesday, at approximately 3:04pm, I graduated. That's when I completed a call with a Turkish Airlines agent to book a flight from Baltimore to Hawaii for a mere 7,500 points and $5.60 per person! Now that's a deal. In this article, I explain the steps I took to make the booking, in detail.
Discovery
For the past couple of months, I've been working on booking the various components of a trip to Hawaii - flights, lodging, car rentals, activities, etc. While I had booked the return flight (home), I had not yet booked the arrival flight (to Hawaii). Our return flight was on American Airlines, booked using British Airways Avios. When I made that booking, there were no attractive economy class arrival flights available for purchase with points/miles (at the saver award level). Since then, I had been stalking American Airlines' award flights for several weeks, waiting for an acceptable/desirable flight to be released as an economy saver award.
During that time, Nick Reyes at FrequentMiler published an article about his discovery of a sweet spot in the Turkish Airlines Miles & Smiles award chart that allows for flights "from the mainland US to/from Hawaii for 7.5K each way in economy class". He then followed-up with another article explaining how to book the Turkish Airlines sweet spot via email.
Given that I was actively looking to book a flight to Hawaii, I was intrigued. But, the process required sending your driver's license number and photos of your ID, both front and back, via email. I wasn't sure I was willing to take that sort of security risk (opening myself up to fraud and identity theft) regardless of how good the deal was. So, I sat on it.
Initial Stumbles
Several weeks passed and I was still without an arrival flight (to Hawaii). I started researching other options. A United Airlines flight booked via Singapore KrisFlyer for 17,500 points was looking to be my best option. But, that happened to be the same day Nick published another follow-up article, this time explaining how to book the Turkish Airlines Miles & Smiles sweet spot to Hawaii over the phone instead of email. While phone bookings aren't ideal (given the greater chance of miscommunication and greater time required), they're more secure than email.
Even more recently, articles have been written about the ability to book flights such as these via Turkish Airlines' web site. However, the flight options shown are spotty and inconsistent. I would expect that this state of affairs will improve over time, making the phone-based method explained here obsolete. But, by that point, the 7,500 point sweet spot to Hawaii might be gone.
I decided to make my move. I looked more closely at the flights United Airlines was making available for economy saver award bookings. They weren't the choicest flights, but I found a 3-segment flight from Baltimore to Maui via Chicago and San Francisco (BWI-ORD-SFO-OGG) that seemed reasonable. Exercising proper award travel due diligence, I verified that the flight was visible via the web sites of several of United Airlines' Star Alliance partners - Singapore KrisFlyer, Aeroplan, and ANA Mileage Club.
I called Turkish Airlines (using the main number listed on their web site), but didn't get far. They told me I needed a Miles & Smiles account number before proceeding. So, I hung up and went to create an account on their site. Unfortunately, doing so took much longer than it should have. When completing the online Miles & Smiles account sign-up form, I couldn't get past the password entry input field. It wouldn't accept my keystrokes.
Eventually, I did some web searches and realized that I wasn't alone in my frustration with the Miles & Smiles password input. Better yet, a solution was identified - enter only digits for the password. That did the trick - and I had my account number.
I called Turkish Airlines again and was able to progress to the point where I could ask about flights. I stated that I wanted to fly from BWI to OGG and gave them my desired date. Unfortunately, despite me being able to see nine flight options using Singapore KrisFlyer and dozens using Aeroplan, the Turkish Airlines agent told me that they only saw two flight options available, and both were quite lackluster. That seemed odd to me, especially since the flight I had my eye on conformed to Turkish Airlines' requirement for domestic flight itineraries that the flight not include any connections that exceeded 4 hours. But, I got the same result after hanging up and trying again with a different agent.
Fallback
I was a bit disappointed, but I moved past it and turned my focus to Singapore KrisFlyer. After all, the United Airlines flight I wanted was staring me in the face on their web site. I figured I might as well just book it through them, no phone call necessary. Unfortunately, that immediately presented another issue. When selecting the flight itinerary listed as costing 17,500 miles, the site somehow calculated the total cost to be 42,500 miles, instead. That was 25,000 more miles than it should be. I kept playing around with it, but no dice.
As before, I did some web searches and realized that I wasn't alone in my frustration with the award cost summary shown by Singapore KrisFlyer. Unfortunately, the identified solution was to call them and book over the phone. So, back to the phone I went. I gave Singapore Airlines' New York ticketing office a try, but I was placed on a very long hold.
While waiting, I reviewed Nick's articles again and started to wonder about the flights the Turkish Airlines agents were seeing. I took a closer look through the United Airlines flights I figured should be visible to them and realized that they were only seeing the 2-segment flight itineraries, at least by default. I started to suspect that maybe I needed to read to the phone agent the details of the specific flight itinerary I wanted (instead of just saying I wanted a flight from BWI to OGG).
Flight Found
I never ended up getting through to a Singapore Airlines agent. After waiting on-hold for 40 minutes, I hung up and tried calling Turkish Airlines again. This time, when I got the agent on the phone, I read to them the details of the specific flight itinerary I wanted, segment by segment, using the military phonetic alphabet to ensure there was no misunderstanding. And lo and behold, they saw the flight! Even better, they were able to verify that there were 9 economy award seats available on each segment.
Hearing this made me giddy. I went on to ask the agent to confirm the amount of miles required and the cost of any taxes and fees. Their response: 7,500 points and $5.60 per person. Boom! I was so happy to hear them confirm that the 7,500 point sweet spot reported by Nick applied when Kahului (OGG) was the destination.
The Turkish Airlines Miles & Smiles award table (in combination with their terms and conditions) indicates a 7,500 point list price for economy class, in-region flights. Under the "North America" entry of their award region table, they list "Antilles Nether, Bermuda, Canada, Mexico, United States, Honolulu". My fear was that "Honolulu" meant HNL airport only. Conversely, my hope was that "Honolulu" was just shorthand for "Hawaii".
Points Transfer
Pleased with the results of my call, I hung up and logged into my Marriott Bonvoy account. I initiated a transfer of 45,000 points to Turkish Airlines, enough to cover one-way flights for both myself and my lovely Deborah.
While Nick's articles repeatedly made mention of Citi ThankYou points as being the go-to transferable points source for Turkish Airlines award bookings, Marriott Bonvoy is another legitimate option. It was also my only option, as I had no Citi ThankYou points.
I've accrued my Marriott Bonvoy points over the course of the preceding few years via sign-up bonuses earned on the old Marriott Rewards Premier Plus credit card and the pre-merger Starwood Preferred Guest American Express credit card. If you would like to go the same route today, you can earn Marriott Bonvoy points via sign-up bonuses on the Marriott Bonvoy Boundless Visa, the Marriott Bonvoy Bold Visa, and the Marriott Bonvoy Brilliant American Express.
Marriott Bonvoy is primarily a hotel rewards program, but they also allow points to be transferred to many, many airline award programs. As compared to the points "currency" used by airline award programs and airline-centric credit card reward programs, Marriott Bonvoy points are of lesser value. (Think of how a Mexican peso is worth less than an American dollar.) As a result, Marriott Bonvoy points transfer to most of their airline partner award programs at a conversion rate of 3:1. This meant that I had to multiply the 15,000 Turkish Airlines point requirement by three - to 45,000.
For those in the know, I opted against stepping-up my transfer amount to 60,000 points simply for the purpose of triggering the 5,000 mile Marriott Bonvoy transfer bonus.
All of the Marriott Bonvoy points transfer time estimates I found online lead me to believe that I would need to wait anywhere from 3 to 4 days for the transfer to complete. So, I crossed my fingers and waited. At this point, it was ~3:30pm on a Tuesday. Optimistically, I set a reminder for myself to check my Turkish Airlines Miles & Smiles account balance on the following Thursday.
Around 11:00am the next morning, I received an email from Marriott confirming my request to transfer points to miles with Turkish Airlines. This email also included the following bit of discouragement:
In most cases, miles will be posted to your account within one (1) week.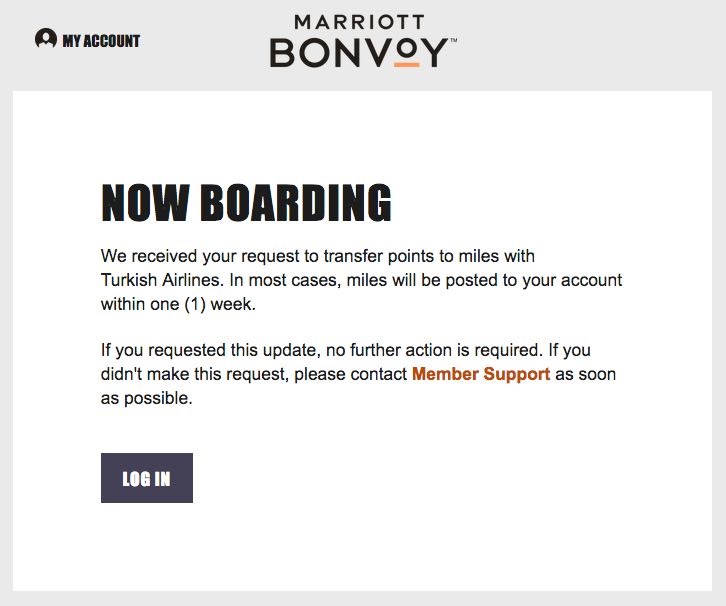 Thursday came and, at around 2:30pm, I logged into my Turkish Airlines Miles & Smiles account. Much to my delight, there sat the 15,000 points! The transfer had taken less than 48 hours!
Booking
I gathered myself and called the now-familiar number for Turkish Airlines. While I was navigating the call tree, I brought up two pages in my web browser:
my target United Airlines flight via the Singapore KrisFlyer web site
Once I got hold of the agent, I once again read the details of the specific flight I wanted, segment by segment, using the military phonetic alphabet to ensure there was no misunderstanding. As before, they were able to see the flight and award seat availability. Phew! When requested, I gave them my simplest email address, to which they sent a preliminary electronic ticket for me to review. The agent remained on the line while I inspected it for accuracy. It was spot on, so I authorized them to move ahead.
The agent then prompted me to enter my Miles & Smiles password (over the phone) to consummate my points redemption. (This is ostensibly why Turkish Airlines requires the password you choose at account sign-up to be numeric only.) For whatever reason, I also needed to supply passport information for myself and my lovely Deborah before the agent could redeem my points. Not sure why, but I went with the flow.
I then provided my credit card information, which the agent needed to cover the $11.20 in taxes and fees. I received a second email with my fully-issued electronic ticket. And so, after a fairly smooth 29 minutes on the phone, we were booked! I was done!
Mashed Names
Er, not quite. Me being the cautious type, I promptly brought up United Airlines' web site and entered the PNR number found on the electronic ticket issued by Turkish Airlines (which they referred to as "Reservation Code"). I was relieved when the site found it. All of the segments and both passengers were accounted for. However, I was concerned to see that, for both of us, our first names were a mash-up of first name + middle name + salutation. So, for me, "Michaelharrymr Scepaniak".
As I stared at it, a recording kept playing in my head - stressing in no uncertain terms that the name on your boarding pass must match the name on your ID/passport! I wasn't feeling good about this.
I distracted myself by further reviewing the booking and then going ahead and picking our seats for the flights. I then noticed that Unites Airlines' site provided an option to associate our United Airlines MileagePlus accounts with the booking. In the instructions for doing this, similarly intimidating language stressed that the names on the booking and the names in our MileagePlus accounts needed to match exactly or the association would fail. Eh - I decided to give it a try and… surprise surprise, it worked! For both of us.
Emboldened, I did some web searches and realized that I wasn't alone in my worries about having my first name mashed-up in my flight booking. Better yet, those among the frequent flier ranks indicated that the name mash-up has never caused a problem at the airport. That was definitely a relief!
Closing
As some final icing on the cake, I realized that my booking through Turkish Airlines had snagged us an Economy class seat, as opposed to a Basic Economy class seat. This meant that we didn't have to pay for our carry-ons! Bonus! I was expecting that we'd have to pay up to the tune of $25 each. But no - we were good to go.
I'm still aglow. 😃 One day, in a far-off future, I'll be trading "war stories" with my fellow award travelers. And I'll be able to say that I bagged the 7,500 point Turkish Airlines Hawaii sweet spot. There'll be ooohs. There'll be aaahs. Hawaii is one of those near-universal bucket list destinations - and 7,500 points is head and shoulders (and chest, and torso) above the other award travel options for getting there (and back).
Phone bookings are a pain and not ideal. Someday, the Turkish Airlines web site will get up to speed and these instructions will become obsolete. However, by the time that day arrives, Turkish Airlines could very easily decide to redefine their award table and/or region definitions, inflating the point cost of this booking and rendering this deal no longer available. If you are up for jumping through the hoops involved, snag it while you can.